GEM&L is launching a series of GEM&L webinars from July 2020.
GEM&L WEBINAR SERIES
Webinar#1 – Revaluing the Human Contribution to the Translation Business: A Cross-Disciplinary Perspective
July 20, 2020, 2 pm BST | 3 pm CEST
More info : https://geml.eu/wp-content/uploads/2020/06/13-June-GEML-webinar-1-flyer.pdf
Webinar#2 – Recontextualization and the Semiosis of Meaning: Limitations of Agency
October 29, 2020. 3 pm GMT|4pm CET| 11am EDT| 8am PDT
For the second GEM&L webinar on language in international business, kindly hosted by the School of Management at the University of Bradford on , we are delighted to welcome Professor Mary Yoko Brannen. 
Mary Yoko Brannen is currently Honorary Professor of International Business at the Copenhagen Business School (CBS), Denmark on leave from the University of Victoria, BC, Canada and Professor Emerita from San Jose State University, California, U.S.A. She was appointed Fellow of the Academy of International Business in 2016 having served as Deputy Editor of the Journal of International Business Studies for two consecutive elected terms (20011-2016). She received an Honorary Doctorate from the CBS in March 2016 and currently sits on the International Advisory Boards of BI Norwegian Business School and Stockholm School of Economics. She received her M.B.A. with emphasis in International Business and Ph.D. in Organizational Behavior/ Cultural Anthropology from the University of Massachusetts at Amherst and a B.A. in Comparative Literature from the University of California at Berkeley. She has taught at the Ross School of Business at the University of Michigan, Smith College, San Jose State University and Stanford University in the United States; INSEAD in France, Keio Business School in Tokyo, Japan, and Fudan University in China. Professor Brannen's expertise in multinational affairs is evident in her research, consulting, teaching, and personal background. Born and raised in Japan, having studied in the US, France and Spain, and having worked as a cross-cultural consultant for over 40 years to various Fortune 100 companies she brings a multi-faceted, deep knowledge of today's complex cultural business environment.
Webinar#3 – Heterogeneity within Homogeneity: Language Diversity, Identity and Clustering
February 25, 2021, 3pm GMT | 4pm CET| 10 am EST
For the 3rd. GEM&L webinar on language in international business, we are delighted to welcome Dr. Komal Kalra from University of Victoria, Canada. 
For details, please see the attached flyer.
Webinar#4 –

The Contingencies of Translation: Hope, Faith and Doing One's Best
Susanne Tietze, PhD is a Professor of Multilingual Management at Sheffield Hallam University (UK). Grounded in an interpretive paradigm, she is an organizational scholar and has researched a variety of phenomena, including multilingualism as it plays out in organizational arenas. An early focus of her research was the theme of translation as an empirical phenomena, as a methodological challenge, as a philosophical stance and way of being in the world. She has recently concluded a research project into the role of paraprofessional translators in multilingual (business) communities and the agentic decision-making which informs their roles.  She has also published about the role of the English language as the lingua franca of management knowledge and how its use impacts upon the research process.  Her latest books (Horn, Lecomte, Tietze, 2020) comprise an edited volume, titled Managing Multilingual Workplaces. Methodological, Empirical and Pedagogic Perspectives, and a research text (2021) titled Language, Translation and Management Knowledge. A Research Overview. In this reflexive talk Susanne will show how translation is always a precarious process which suspends the translating agents between different meanings systems and meaning worlds. Within this tension, translators make bounded decisions through which a degree of agency unfolds and understanding is generated. Translators understood as bounded decision makers are then explored through a focus on paraprofessional translators who operate in multilingual work places. Again, translation is shown to be a precarious, incomplete process. From thereon, it is argued that translation remains a fruitful endeavour whether operationalised as empirical research; whether used to raise important methodological questions or whether treated as an epistemological stance.
Webinar#5 – Language and Knowledge Work in Multicultural Teams
Prof. Dr. Helene Tenzer
October 4, 2022. 4pm CET | 3pm BST | 10am EDT | 7am PDT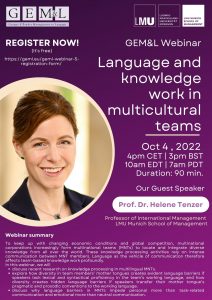 Webinar#6 – Language Management : From Bricolage to Strategy
January 24, 2023
4pm CET | 3pm BST | 10am EDT| 7am PDT
For the 6th GEM&L webinar on language in international business, we are delighted to welcome
Dr. Natalie Wilmot from University of Bradford, U.K.
Language Management: From Bricolage to Strategy
January 24, 2023. 3pm GMT | 4pm CET | 11am EDT| 8am PDT
We are delighted to announce our next GEM&L webinar on Language Management: From Bricolage to Strategy with Dr. Natalie Wilmot. 
Natalie Wilmot is the Deputy Dean of the School of Management at the University of Bradford, which she joined in September 2019 as MBA Director. This followed seven years at Sheffield Hallam University as Senior Lecturer in International Business. Her research focuses on language diversity in international business, and she has published a number of works on this topic, with a research monograph on language management published by Multilingual Matters in August 2022. Her teaching interests are in the areas of international strategy and cross-cultural management. Since 2017 she has been a visiting lecturer at the University of Bordeaux, where she teaches a postgraduate course on intercultural communication.  Prior to academia, Natalie held various positions in the private sector, specializing in export sales and has worked extensively with organizations in southern Europe and Latin America. 
Summary:
This talk explores how smaller organisations deal with language diversity in inter-organisational relationships by drawing on four case studies of UK-based organisations.  It particularly explores three key aspects: the role of boundary spanners, and the multi-faceted nature of their activity within smaller organisations; translation as a critical issue faced by organisations in external communication, and how this can be managed when resources are constrained; and the privileging and disadvantageous effects of Business English as a Lingua Franca on organisations based within the Anglosphere.  The talk aims to show the creativity that smaller organisations demonstrate in environments of linguistic diversity, exploiting resources which they may acquire through luck, rather than strategy.